---
---
See into your pipes with a Drain Camera Inspection
Not sure why your drain is clogged? Did the kids flush something they shouldn't have? Are Tree roots causing problems for your pipes?
It can become all too clear, too fast when our sewage pipe gets backed up. The consequences can make themselves known by a flooded basement and other areas of the house bringing up raw sewage. When is it time to call your local sewer and drain cleaning expert for a drain camera inspection?

We offer over the phone quotes!
Leo's Sewer and Drain Cleaning uses state-of-the-art techniques and equipment to clear your sewage drains and get the job done right the first time! With over 30 years of experience, Leo's Sewer and Drain Cleaning can handle a complete broken sewage excavation for Colorado Springs residents and address all of your other drain cleaning needs. As your locally owned and operated alternative plumbing provider, we are specialized in camera inspections and sewer locating. We offer our community 24-hour emergency service, and make it our mission to get the job done quickly at a more affordable rate than a traditional plumbing enterprise.
Is your home talking to you? Do you hear your toilet making gurgling noises or even your pipes percolating after the laundry is finished? Maybe your home is experiencing on-going backup issues or slow draining. A drain camera inspection can provide a home or business owner the information needed on the cause of a sewer backing up. The camera can allow for our experienced sewer and drain cleaners to access to see tough places. A drain camera can see everything from corroded pipes, to pipe damage, as well as tree roots blocking and growing into the pipe. Camera inspections can also be used to locate missing heirlooms before they head out to the municipal sewer system.
Clogged drains never come at a good time, luckily, Leo's Sewer and Drain Cleaning can see into the problem and provide the solution. Call today for a hassle-free over the phone quote.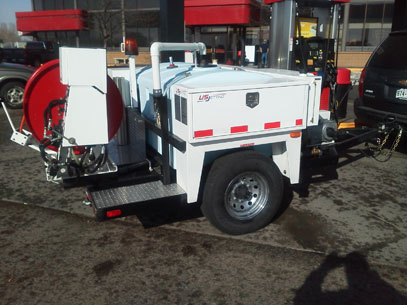 ---

Expert Sewer & Drain Cleaning
Camera & Sewer Locate Specialists